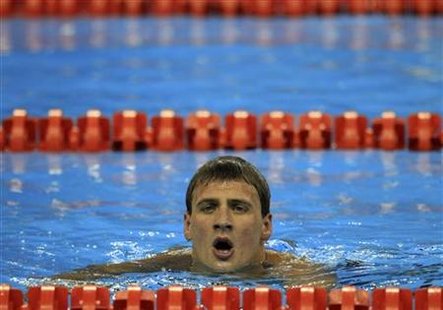 By Greg Stutchbury
SHANGHAI (Reuters) - Ryan Lochte had little opportunity to soak up the fact he had become the first swimmer to break a long course world record since controversial polyurethane swimsuits were outlawed as his focus shifted to the 200 meters backstroke final Friday.
Lochte, who broke his own world record in retaining the 200 meters individual medley Thursday, qualified fastest for the 200 backstroke just over an hour later and was immediately asked what it meant for his preparations for Friday and beyond.
"Forget about the 200 individual medley, I'll just focus on the 200 backstroke," Lochte told reporters. "It's probably the most difficult item for me.
"I just want to focus on 200 backstroke."
The 26-year-old can win his third gold medal of the championships with victory in the backstroke, though Japan's Ryosuke Irie, the silver medalist in the 200 backstroke at the world championships in Rome in 2009 will push him hard, having just finished behind Lochte in their semi-final.
Rebecca Soni and Kosuke Kitajima, the Beijing Olympic champions in the 200 breaststroke, will be seeking their own motivation other than gold medals in their respective finals.
Soni, who has blitzed the breaststroke field in Shanghai, can complete the 100-200 breaststroke double with victory, while Kitajima will be looking for a guaranteed ticket to next year's London Olympics with a win.
Kitajima, who won the 100-200 breaststroke double at the Athens and Beijing Olympics, surprisingly failed to medal in the 100 breaststroke in Shanghai.
"I was nervous in the 100m because Alexander (Dale Oen, of Norway) was next to me and he is very competitive," Kitajima said.
"My body didn't respond as I expected. I am satisfied with my (200 semi-final) performance."
Britain's Fran Halsall will line up as a slight favorite in the 100 meters freestyle final after qualifying fastest, just ahead of Dutchwoman Femke Heemskerk.
Beijing 800 meters freestyle champion Rebecca Adlington is also slated to start in the 800 freestyle heats, while Michael Phelps begins the defense of his 100 butterfly title.
(additional reporting by Soo Ai Peng)
(Editing by Dave Thompson)