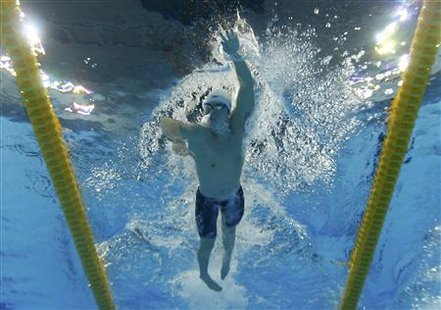 SHANGHAI (Reuters) - Ryan Lochte claimed five gold medals at the world swimming championships in Shanghai but was convinced he was still playing second fiddle to team mate Michael Phelps.
Lochte's fourth individual gold medal, and fifth overall, was achieved in the men's 400 meters individual medley. He led from start to finish and was never really challenged even though he chopped down a gear on the final leg of freestyle when the race had already been virtually assured.
"It's been a hard eight days," Lochte told reporters. "Being able to do the 4IM at the end of the week. I am glad the meet is over."
Lochte's win ensured he repeated the feat of two years ago in Rome when he also won both the 200 and 400 individual medley titles. Hungary's Tamas Darnyi is the only other man to have won both medley titles in consecutive championships.
Lochte also won the 200 freestyle and 200 backstroke and was a member of the gold medal winning 4x200 freestyle relay team. He was also only one of two swimmers to set a world record during these championships when he pipped Michael Phelps for the 200 individual medley gold.
China's Sun Yang broke the 1500 meters freestyle record in the final men's individual event on the program on Sunday.
Lochte, who turns 27 on August 3, was named the male swimmer of the meeting, usurping his more illustrious compatriot, though the big challenge is to ensure he continues his hot run of form into next year's London Olympics.
Phelps said that he had failed to fully commit to the intensive training schedule mapped out for him, and the fact he pushed his team mate so hard should worry the Florida-based Lochte.
"I don't think I am the top dog," Lochte said. "I have a whole year to work hard and train hard.
"For the most part, I am not really happy with the meet, I mean winning five gold medals is great but I know I can go faster.
"I will make sure next year I will have a perfect swim."
(additional reporting by Soo Ai Peng)
(Writing by Greg Stutchbury; Editing by Pritha Sarkar)