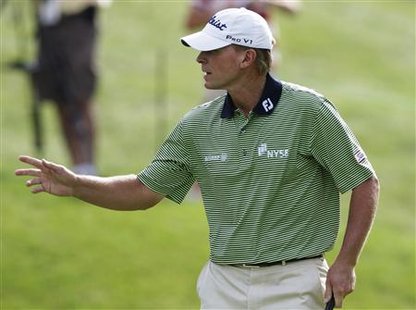 By Mark Lamport-Stokes
DUBLIN, Ohio (Reuters) - American Steve Stricker recorded just the second ace of his PGA Tour career Friday at the Memorial tournament, and this one could reap richer rewards than his first.
Fourteen years ago, he earned a car for his hole-in-one at the infamous par-three 16th at the Phoenix Open but compatriot Steve Jones went on to win the tournament.
Stricker's spectacular and timely ace Friday helped him grab a three-shot lead after the second round at Muirfield Village Golf Club and could pave the way for his 10th PGA Tour title.
"It's a shock when you see that go in, obviously, but in a good way," Stricker told reporters about his six-iron from 186 yards at the par-three eighth, his penultimate hole. "A great way to finish the round."
The 44-year-old went on to birdie his final hole for a five-under-par 67, and then handed his ball to the group's official scorer without making clear it was the ace ball.
"I signed it and gave it to my scorer," Stricker said after finishing at nine-under 135, three ahead of Northern Ireland's Rory McIlroy (72), Australian Rod Pampling (66) and Americans Ricky Barnes (70) and Jonathan Byrd (67).
"I don't know if he knows. I didn't tell him. It's just a ball."
What made Friday's ace especially memorable for Stricker was that the eighth hole at Muirfield Village has never been kind to him in the past.
"That shot has always provided me with trouble over the years," the world number eight said. "It's just a tough par three. There's not a lot of room there to hit it.
"What I had going for me there was a little bit of a left-to-right wind and I draw the ball so I could pretty much hold it up against the wind. It started off right at the hole and went in."
GRANDSTAND ATMOSPHERE
Stricker vividly recalls his first PGA Tour ace in Phoenix at the noisiest hole in golf where thousands of spectators cram into the bleachers and sky boxes to create a highly charged grandstand atmosphere.
"But that day I had teed off on the back nine first, so there wasn't a lot of people there," he said with a smile. "That was the same year that Tiger (Woods) made his ace."
Woods recorded his hole-in-one in the previous round to ignite rowdy celebration from the fans. Television footage of that moment has been replayed several times over the years.
"You didn't see mine that year?" Stricker dead-panned. "No?"
However Stricker trumped Woods that year by winning a car for his efforts as his ace came in the final round.
"It was an Oldsmobile Aurora," he recalled. "I used it for a little while and then traded it in for a minivan."
(Editing by Julian Linden)