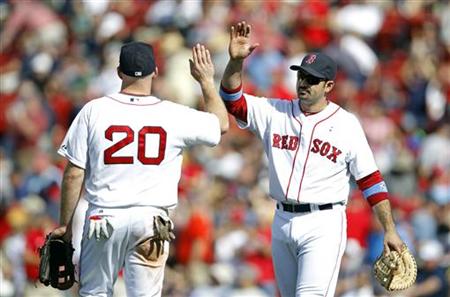 BOSTON (Reuters) - Boston's Adrian Gonzalez proved a thorn in the side of his former team as the first baseman's seventh-inning hit set the surging Red Sox on course for a crushing 14-5 victory over the San Diego Padres on Monday.
Gonzalez, who spent the previous five campaigns with the Padres before being traded to Boston in the off-season, broke open a 3-3 tie with an RBI double that opened the floodgates as the Red Sox added 10 runs in the top of the inning.
"It's just great at-bats," Gonzalez told reporters after he finished with three hits to raise his Major League-leading batting average to .353. He also leads baseball in RBIs with 67.
"It's a line-up that consistently has good at-bats, professional at-bats and you wear down a pitcher."
Padres starter Wade LeBlanc left the game in the fourth inning and Boston exploited a shaky San Diego bullpen that walked four and hit two batters in the marathon seventh.
Padres reliever Cory Luebke gave up two runs in 3 1/3 innings and was charged with struggling San Diego's (30-44) sixth consecutive loss.
"Our bullpen has been the best in baseball, top to bottom," Padres manager Bud Black countered. "Tonight showed that these guys aren't invincible. Bad inning. That's the only way you can write it."
Boston (44-28) got a lift on the mound from Andrew Miller, making his season debut in place of injured starter Clay Buchholz. He allowed three runs in 5 2/3 innings of the no-decision.
Matt Albers came on to finish the sixth and pitched the seventh to earn the win for the red-hot Red Sox, who have won 14 of their last 16 games, and lead the American League East by 1 1/2 games despite a 2-10 start to the season.
Boston took an early 3-0 lead with runs in the first, third and fourth innings but the Padres battled back and tied the game in the sixth on a three-run homer from Orlando Hudson.
Hudson finished with three hits and Chase Headley went 4-for-5 in the loss for the Padres.
(Writing by Jahmal Corner in Los Angeles; Editing by John O'Brien)