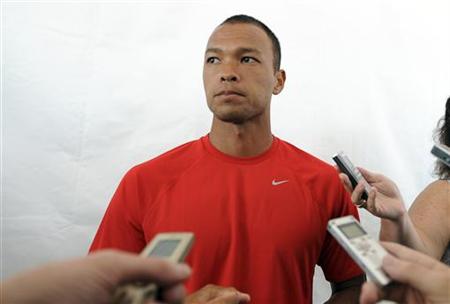 EUGENE, Oregon (Reuters) - Olympic decathlon champion Bryan Clay withdrew from the U.S. national trials with injury on Friday, jeopardizing his chances of competing at this year's world championships in South Korea.
Clay pulled out after he fell during the 110 meters hurdles and injured his calf muscle.
"I think I have a little strain," he said.
Decathlon winner Ashton Eaton and runner-up Ryan Harlan secured their berths in the four-man team at the trials on Friday. World champion Trey Hardee is already a guaranteed a spot at Daegu as the title-holder.
Because Clay was not an automatic qualifier for the world championships, he will have to wait for the third and fourth finishers in Friday's competition to chase the world championship qualifying standard.
Miller Moss and Chris Helwick have until August to try for the standard, USA Track and Field men's committee chairman John Chaplin told Reuters.
"If they do not make it, Clay would need to file an appeal," said Chaplin, who suggested the appeal would likely be successful.
(Reporting by Gene Cherry; Editing by Ian Ransom)