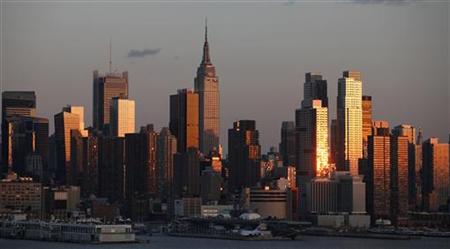 By Dan Wiessner
ALBANY, New York (Reuters) - As New York Governor Andrew Cuomo and public-employee unions negotiate over his threat to lay off 9,800 state workers, one union on Thursday said that the state could save $300 million alone by using fewer private consultants.
The report by the Public Employees Federation the state's second-largest public employee union, said that consultants cost an average of 70 percent more than state workers, even when including the cost of employee benefits.
Cuomo's demand that the unions must accept $450 million savings in salaries and benefits to avoid the layoffs is becoming a mainstream approach to closing municipal budget deficits that are a legacy of the recession for many states, cities and towns around the country.
But the Democratic governor is not trying to wring out these cost savings by curbing the ability of public unions to negotiate benefits -- a strategy being used by some of Cuomo's Republican peers, including Wisconsin's Scott Walker and New Jersey's Chris Christie.
Cuomo has about 132,000 workers under his control; tens of thousands of other workers are employed by independent public authorities.
The Public Employees Federation is urging lawmakers to pass a bill that would require agencies to compare the costs of consultants and state employees.
"Too often state agencies rely on costly contractors for services due to the lack of sufficient in-house staff, even though in-house staff is usually the most cost effective solution," the union's president, Ken Brynien, said in a statement.
"The situation has been exacerbated by years of attrition and hiring freezes," he added.
Cuomo's office did not respond to requests for comment.
Last month, Brynien said that his union had rejected an initial offer from the Cuomo administration that included a three-year wage freeze and increased health care contributions. A much smaller law enforcement union accepted those terms, but the union's rank-and-file have yet to ratify the deal.
Noting the governor plans to merge agencies and find other ways of saving taxpayer dollars, the union president said: "The potential benefits of reducing the state's reliance on consultants and contractors must be a part of the savings strategy."
Darcy Wells, a spokeswoman for the union, said that the report had nothing to do with the negotiations. She added that last year, the union urged then-Governor David Paterson to probe the state's use of consultants to avert layoffs. Paterson eliminated more than 11,000 jobs between 2008 and 2010; more than half were through attrition.
The union report did not oppose the use of all private consultants, but noted that it might make sense to tap them for short-term projects.
As for long-term commitments, such as annual bridge inspections conducted by the Department of Transportation, state workers are more cost-effective, the union said.
A spokeswoman for the Department of Transportation had no immediate comment on the report.