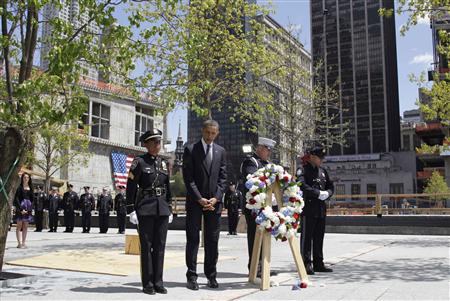 By Jonathan Allen
NEW YORK (Reuters) - Names of all 2,982 people who died in the September 11 attacks will be grouped as friends, work buddies and families on bronze panels at a national memorial opening in New York, organizers announced.
Rather than an alphabetical listing or purely random collection, the names will be arranged in what organizers described as "meaningful adjacencies" at the National September 11 Memorial & Museum.
"They died as friends and co-workers and will be remembered together as friends and co-workers," Joe Daniels, the president of the memorial, said in a statement on Thursday.
"They died as brothers and will be remembered as brothers -- or as sisters, mothers, fathers, sons, and daughters. The arrangement of the names, forever etched in bronze, expresses the bonds that could not be broken by the murderous attacks of that day," Daniels said.
Tickets to enter the memorial, which are free, can be reserved online starting this summer. The site opens to families of the victims on the tenth anniversary of the attacks and to the general public on September 12.
Arranging names by relationships "helped us infuse the memorial with meaning and depth," said memorial architect Michael Arad.
The grouping was based in part on more than 1,200 requests made by victims' families. An electronic guide to the location of each name is available now on the memorial's website -- 911memorial.org -- and soon as a smartphone app. The guide also includes brief biographical information and, in many cases, photographs of each victim.
The memorial is being built in lower Manhattan in the two footprints of the twin towers, which collapsed after being struck by hijacked planes. Each will become a large square pool fed by waterfalls and surrounded by the panels bearing the victims' names.
The memorial will commemorate all those who died in the 2001 attacks, including first responders and building occupants at the Pentagon and the World Trade Center as well as the passengers and crew of all four hijacked planes, one of which crashed in a Pennsylvania field.
It also honors the victims of the 1993 bombing of the World Trade Center.
The memorial and nearby museum will be the first areas of Ground Zero to reopen to the public in the decade since the attack. Construction continues on the skyscrapers that will replace the fallen twin towers.
President Barack Obama visited the site on Thursday to mark the success of a military operation last weekend in which Osama bin Laden, the mastermind of the attacks, was killed.
(Editing Barbara Goldberg and Jerry Norton)