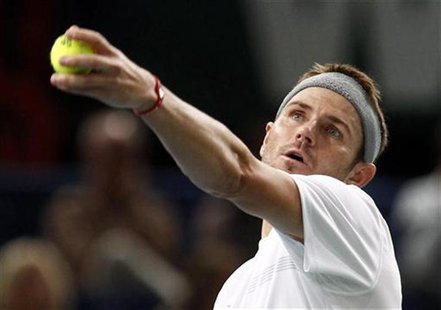 By Martyn Herman
LONDON (Reuters) - Mardy Fish usually prefers spending Thanksgiving relaxing at home with his family and friends but this year's holiday will be spent hard at work, a 'reward' of sorts for what he describes as the most stressful time of his career.
With his 30th birthday looming and time ticking on a steady career spent in the shadow of Andy Roddick, the American will make his debut at the ATP World Tour Finals on Sunday against 10-times grand slam champion Rafa Nadal at London's O2 Arena.
The late-blooming Fish is the only member of the elite eight-man field to be playing at the season-ending showpiece for the first time having sealed his place at the recent Paris Masters where he had to retire with injury.
While the self-deprecating Los Angeles resident looked relaxed as he sat on a sofa talking to reporters inside a bar in the O2 on Friday, he said the past few weeks had been anxious ones as he added up the ranking points and wondered whether injury would rob him of his chance to mix with the game's royalty in London.
"I was stressed out, the most I've ever been in my career," Fish, who will also face 16-times champion Roger Federer and Frenchman Jo-Wilfried Tsonga in his round robin group.
"I didn't know how many points I would need. Going into Paris I was eighth in the rankings and (Andy Roddick) told me not to look at it. That's easy for him to say because he made it eight times!
"I've spent a lot of time clicking on ATP WorldTour.com, making sure nobody had played at two a.m. that I didn't know about. But it's been a great, even the sleepless nights and the days I was injured and the 25 days of rehab I've been doing to make sure I'm fit for this."
Fish, who is confident a hamstring injury will have healed by Sunday, is one of the game's late developers.
He first broke into the top 100 in 2006 and began a steady rise that was interrupted by a slump at the end of 2009 when injuries and poor form sent him back into three digits.
That proved the turning point, however, and with coach David Nankin he has harnessed his natural flair and attacking playing style with some extra steel.
SLOW MATURITY
"I wasn't ever a terrible player," he said. "I always had results but would then go away for a month or two, maybe too satisfied, sometimes I didn't play well or wasn't fit enough and the consistency wasn't there.
"Maturity is the thing that comes to mind. Everybody grows at a different rate and mine was a little bit slower than some of the other guys who handled themselves better.
"I didn't go to college or university so my schooling was on the road and real life and trying to make a living playing tennis but was finding it harder and harder to get better."
Get better they did, and this year has been the most consistent of his career with a sensational run through the American hardcourt swing when he reached three consecutive finals and beat Nadal in Cincinatti.
He has been inside the top 10 since May and dislodged close friend Roddick as the top-ranked American in April.
These are heady times for Fish and he is clearly determined to savor them.
"I've seen every one of these on TV and they look fun," Fish, who will be just a curious name for the majority of the 255,000 fans expected at the O2 over the next week.
"Going to the dinner last night and the gala and gathering memories I might not get ever again. I'm taking it all in. My parents are here, my wife's here, you know everyone who has played a key role for me is here."
While he may be the outsider in the draw, Fish said he is not just here to make up the numbers and wants to return.
"It's like flying first class, you don't know what you're missing until you fly it once then you don't ever want to leave," he said. "In Roger's case it's flying privately!
"When I got to the top 10 and then slipped out to 11 for a couple of wesk it felt terrible. "I hope I'm in this position next year too. I'm going to experience this whole new thing and will want to come back."
Of his matchup with Nadal on Sunday, Fish said he would take heart from his performance against the Spaniard on the fast Cincinatti courts this year.
"Rafa presents a couple of issues for sure," he said. "But it's a nice introduction to the tournament because playing against the best is what it's all about. I've never played him indoors but I always enjoy being up against him."
(Editing by John Mehaffey)