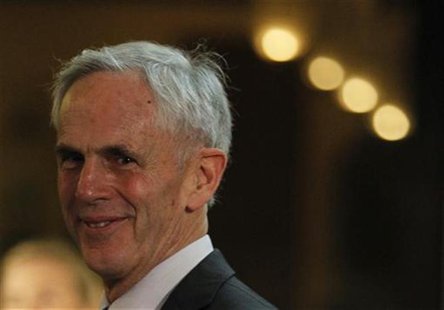 By Chris Buckley
CHENGDU, China (Reuters) - Chinese and U.S. officials started meeting on Sunday to grapple with trade disputes that have strained ties between the world's two biggest economies, carrying forward concerns exchanged between leaders at back-to-back Asian summits in the past week.
At the annual U.S.-China Joint Commission on Commerce and Trade, or JCCT, in the southwest Chinese city of Chengdu, U.S. Commerce Secretary John Bryson said he would push for "concrete and measurable" steps to boost U.S. exports.
President Barack Obama over the past week met with his Chinese counterpart Hu Jintao twice, both times discussing barriers to trade among other issues. Obama said China is now "grown up" and should act that way in international affairs.
China's official reaction has been restrained, with an impending leadership succession preoccupying the Communist Party and leaving it anxious to avoid diplomatic fireworks.
But the conversation is expected to continue at the cabinet and bureaucratic level.
"These are very, very important economic times for both China and the United States, and indeed the world," the U.S. ambassador to Beijing, Gary Locke, said as officials filed in for the first session of the two-day negotiations.
At the heart of the trade friction between is the U.S. trade deficit with China, which in 2010 rose to a record $273.1 billion, up from about $226.9 billion in 2009, in spite of both government's pledges to correct "global imbalances."
The JCCT talks do not grapple with complaints by the United States that the yuan is undervalued to favor Chinese exports, nor with broader political tensions between Beijing and Washington.
But U.S. officials want progress on complaints about lax protection of intellectual property and Beijing's eight-year-old import ban on U.S. beef.
China will press for the United States to "relax restrictions on high-tech (U.S.) exports, and make it easier for China to invest in the United States," said Xinhua.
Beijing complains that those high-tech restrictions, imposed for security reasons, hold back purchases of U.S. goods that could narrow the trade gap, a claim rejected by Washington.
The meeting aims to air disputes and solve them before they require action at the World Trade Organization (WTO).
In addition, some disputes are not covered by WTO rules, so the months of meetings that precede each JCCT provide a valuable opportunity to air concerns, an Obama administration official said earlier.
The two sides are due to announce the outcome of the latest JCCT talks on Monday afternoon local time.
(Reporting by Chris Buckley)