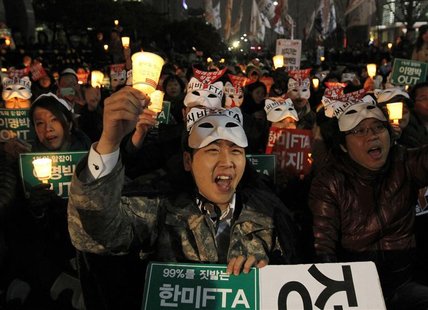 By Jack Kim
SEOUL (Reuters) - South Korea's ruling conservatives rammed a bitterly contested free trade deal with the United States through parliament on Tuesday as legislators scuffled and one opposition MP let off a tear gas device, briefly clearing the chamber.
The deal, which economists say could boost the $67 billion in annual trade between the two countries by as much as a quarter, had been stalled in parliament as the government shied away from forcing it through for fear of violent confrontations in the legislature might further dent its waning popularity ahead of general and presidential elections next year.
The bill was passed with 151 members largely from the ruling Grand National Party (GNP) voting for it and seven against, as most members of the opposition Democratic Party abstained. The two countries had set a January 1 target for the pact to take effect.
Analysts said the bitterness of the dispute could put parliament into a legislative limbo with potential problems for the 2012 budget bill that has a December 2 deadline under the constitution. However, that deadline has often been missed in the past.
Gridlock in parliament has all but paralyzed proceedings in the final weeks of budget deliberations and could leave members fighting into December up to the January fiscal year start.
Though it was the opposition which initiated the FTA deal when it was in power, its legislators argue that subsequent changes to allow U.S. carmakers a major inroad into the market and a dispute settlement mechanism will strip Seoul of any ability to defend its interests.
President Lee Myung-bak made a last ditch effort last week to try to persuade the opposition to let the trade pact come to a vote but liberal parties rejected his plea. His office said after the bill's passage that it was time to get down to work on ensuring the deal leads to more jobs.
The GNP worried that the row over the trade deal would damage its image, already battered after losing key by-elections in April and last month in what were seen as tests of support before elections next year.
The by-election results indicated voters would likely back the liberals at the national level, which would mean a step back from the big-business policies of President Lee and a shift toward more welfare initiatives, analysts said.
The deal was approved by the U.S. Congress last month and signed into law by President Barack Obama, and is the biggest U.S. trade pact since the North America Free Trade Agreement went into force in 1994.
(Additional reporting by Iktae Park and Kim Do-gyun; Editing by David Chance; and)