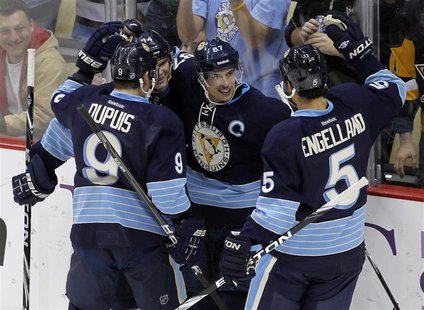 (Reuters) - Pittsburgh defenseman Kris Letang suffered a broken nose but battled on to score a controversial overtime goal that gave the Penguins a 4-3 road victory over the Montreal Canadiens on Saturday.
With the game tied at 3-3, Canadiens goalie Carey Price appeared to smother the puck and his team mates let down their guard expecting a whistle, but James Neal poked the puck free to Letang, who scored the winner and prompted a furious reaction from Montreal.
Price said he had covered the puck and the referee should have blown a whistle.
"Rammed it right out from underneath me and put it in the net. That's how that went down," he raged.
Letang looked unlikely to feature in overtime after he was sent to the ice from a hard hit by Montreal's Max Pacioretty with three minutes left in the third period.
"It made for a good story, him coming back after the hit and scoring the goal," Penguins coach Dan Bylsma said. "He's shooting the puck, it was from a bad angle, the blind side, and certainly I think it's a hit they're (NHL) going to look at."
The Penguins opened the scoring after just 21 seconds through Evgeni Malkin but Montreal responded through Travis Moen and Pacioretty before the first period was over. Both Montreal players shot high over the glove of Penguins goalie Marc-Andre Fleury from similar spots in the offensive zone.
Erik Cole extended the Canadiens lead to 3-1 with a shot that hit the post and bounced off the back of Fleury's leg and into the net.
Pascal Dupuis scored late in the second period to start the Penguins comeback and Jordan Staal forced overtime with the tying goal on a breakaway with less than five minutes remaining in the third period.
Sidney Crosby, playing in his fourth game since returning from a concussion that sidelined him for more than 10 months, assisted on Malkin's goal.
(Reporting by Mike Mouat in Windsor, Ontario. Editing by Patrick Johnston/Peter Rutherford)