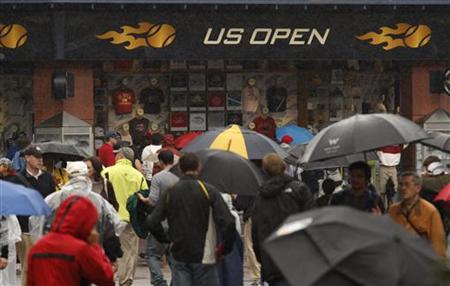 By Larry Fine
NEW YORK (Reuters) - Rain and a maddening mist that settled over Flushing Meadows washed out the U.S. Open Wednesday for a second successive day, threatening to push the tournament to a Monday finish for a fourth successive year.
Three men's fourth-round matches, originally scheduled for Tuesday, produced 16 minutes of action before play was halted and never restarted at the National Tennis Center.
A fourth Round of 16 match never began and two men's quarter-finals were also scrubbed.
Officials first canceled the men's program, but held out hope they could play the women's quarter-finals simultaneously to cut down on some of the backlog.
Three-time champion Serena Williams took to the Arthur Ashe Stadium court to begin warming up for her quarter against Russian Anastasia Pavlyuchenkova before the bedeviling mist blew back in and led officials to abandon play.
"It was definitely misting out there and with my luck I would have broke my neck and I was not up for that today," said Williams, who has come back from foot injuries and a blood clot on her lung, to play in the Open.
(Editing by Julian Linden)