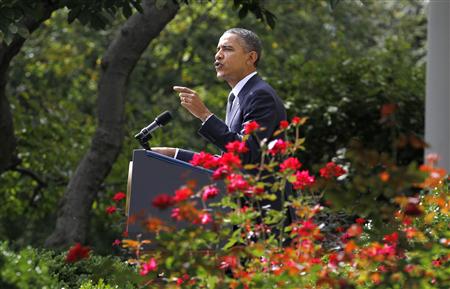 WASHINGTON (Reuters) - President Barack Obama once again suggested suspending the interest charged on loans to U.S. states for covering jobless benefits as part of the tax and deficit plan he unveiled on Monday.
The move would extend a break the states received from the 2009 federal stimulus plan.
In his proposal, Obama called for "relieving states of interest payments on federal borrowing that are typically paid through an automatic surtax on employers" and for "suspending automatic increases in federal (unemployment insurance) taxes on employers in indebted states."
"Although states have been hit hard by the economic downturn, many have chronically underfunded their UI programs and relied on borrowing from the federal government to make up the shortfall," Obama wrote in his proposal. "This borrowing often leads states to increase taxes on employers during recessions, when businesses can least afford the added burden."
This month businesses in some states are paying special levies to help cover more than $1 billion in interest that the states owe the U.S. government.
The 2009 economic stimulus plan made it easier for states to borrow from the federal government to provide benefits for unemployed workers, easing the strain on their budgets as revenue cratered and high numbers of residents filed for assistance during the recession.
Specifically, interest was waived on the states' loans. When the stimulus plan expired at the end of 2010, interest began accruing and now borrowing states must make an interest payment by September 30.
California, Michigan, Pennsylvania, New York, and North Carolina have to send in the biggest interest payments according to Chris Mier, managing director at Loop Capital Markets, which has been tracking states' unemployment loans.
Not all states borrowed, but, according to Mier, as of September 8, 33 states must pay interest totaling nearly $1.2 billion.
The federal government is set to hike taxes on employers in states with outstanding loans as of January 1, 2012, and in his proposal Obama is also seeking to avoid that increase.
Republicans in the U.S. Congress were cool to the idea of continuing to suspend the interest payments and the tax hikes when Obama previously suggested it in February, partly due to general discontent with the $830 billion stimulus plan. They also have taken a hard line on assisting the states.
In the same vein, Republicans, who control the House of Representatives were wary of many of the suggestions Obama released on Monday.
Obama is also proposing helping states "put their programs on sounder financial footing." He would like to increase the taxable wage base states use to fund their unemployment programs to $15,000 from its current $7,000. Essentially, that would provide states with more funds.
But Obama would also like to decrease the federal tax rate so that employers will pay a consistent amount in unemployment insurance taxes.
The unemployment insurance system is, like the healthcare programs of Medicaid and Medicare, jointly funded by the states and federal government.
(Reporting by Lisa Lambert; Editing by James Dalgleish)