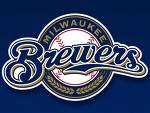 MILWAUKEE, WI (WSAU) The home opener for the Milwaukee Brewers started on a high note with two runs in the first. If the game could have ended there the 2012 season would have had a positive start.
Instead, the St. Louis Cardinals pounded four home runs off Brewer starter Yovani Gallardo in an 11-5 victory. Gallardo couldn't find the plate with five walks in less than four innings. When he did, the ball left the park. He's now 1-7 in his career against the World Champion Cardinals.
World Series hero David Freese, catcher Yadier Molina, and outfielders Carlos Beltran and Matt Holliday all hit homers. Jaime Garcia went six innings to get the win.
The middle of the Brewers' lineup was disappointingly silent, with Ryan Braun and Aramis Ramirez going a combined 0h-for-nine. George Kottarus hit a home run for the home team, but the game had long been decided before that.
The two teams play again today with the pre game show starting at 2:30 on WSAU.