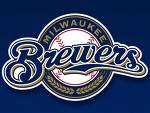 MILWAUKEE, WI (WSAU) The Milwaukee Brewers only had five hits in losing to Saint Louis on Easter Sunday, 9-to-3 at Miller Park. The Brewers were never in this one, as Saint Louis made it 3-nothing before Milwaukee could score in the fifth – and the Cards kept their offensive machine going 'til the end.
Corey Hart homered in his third straight game for Milwaukee. Ryan Braun went 2-for-4 with his first homer of the year. Alex Gonzalez doubled home the Brewers' only other run. And Norichika Aoki had his first big league hit for the Crew.
The Cards pulled away with a two-run shot by Carlos Beltran in the sixth. Tyler Greene made it 6-1 with an R-B-I single in the eighth. Shane Robinson belted a three-run blast in the ninth for his first career homer -- and a fan delivered the ball to him in exchange for an autographed ball from some of the Cardinals' top players.
Randy Wolf took the loss to fall to 0-and-1. He struck out seven in five innings but gave up three runs on nine hits. Lance Lynn started in place of the injured Chris Carpenter. He got the win by striking out eight in six-and-two-thirds innings, giving up just a run on two hits with a walk. Beltran went 3-for-5 for Saint Louis.
The Brewers dropped their first series of the year, two games to one. They'll open their first road series tonight at Chicago. The Cubs are also 1-and-2. Right-hander Shaun Marcum will face Cubs' righty Chris Volstad.