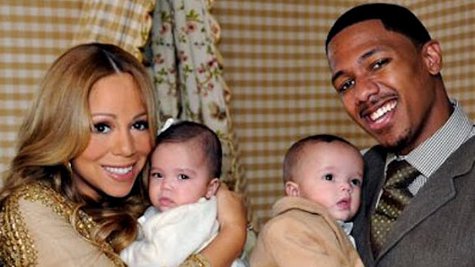 It's a doubly joyous occasion for Mariah Carey and hubby Nick Cannon on Monday. Not only is it the couple's fourth wedding anniversary, but it's also the first birthday of their twins, Moroccan and Monroe.
Moroccan and Monroe were born via C-section on April 30, 2011 after what Mariah has described as an extremely difficult pregnancy. In addition to gaining some 70 pounds, most of it in water weight, Mariah has said that she struggled with gestational diabetes, toxemia and pre-enclampsia, and was so huge that she wouldn't let Nick see her naked. There was also the added psychological stress of whether the pregnancy would be successful, since the couple had previously suffered a miscarriage.
When the babies finally arrived, on the couple's third anniversary, Nick told TV Guide that he "DJ'd" the birth by playing their mother's music as the kids came into the world. "Our kids were born to her 'Fantasy' performance at Madison Square Garden," he said at the time. "So there was a big round of applause as the kids came out. She timed it that way." The day of the birth, Nick tweeted, ""My wife just gave me the most incredible anniversary gift ever in life! I won't ever be able to top this!"
The couple's son was named Moroccan Scott, because Scott is Nick's middle name, as well as his grandmother's maiden name. As for "Moroccan," Nick proposed to Mariah in the top tier of her New York City apartment, which is called "The Moroccan Room" because of its Moroccan-style decor. Their daughter was dubbed Monroe -- no middle name, because Mariah doesn't have one either -- in honor of Marilyn Monroe.
When the babies came home, Mariah got a special present from Nick, according to People magazine: a four-carat $12,000 diamond and sapphire necklace that spells out the twins' names in script. Monroe's name was spelled out in pink sapphires, while Moroccan's name was in diamonds.
The happy couple unveiled the twins to the world during a sit-down with Barbara Walters during ABC's 20/20 , which scored huge ratings. Then, instead of selling photos of Moroccan and Monroe to whatever celebrity magazine coughed up the most cash, Mariah and Nick instead launched the website, DemBabies.com -- "dembabies" being the nickname Mariah and her fans use for the twins. Photos on the site were available for media outlets to purchase, with all proceeds going to the Fresh Air Fund's Camp Mariah, which provides free summer camp fun to underprivileged kids.
Mariah then got down to the age-old celebrity business of getting her "body back after baby,"unveiling the spectacular results on various magazine covers and in a new ad campaign for the Jenny Craig diet plan, for which she's the new spokeswoman. At the same time, Nick began struggling with his own health issues: after being hospitalized in January, he learned that he has a rare autoimmune disorder, lupus nephritis. He was forced to quit his daily radio show but he ended up launching an online series , Ncredible Health Hustle , that documents his experiences .
So how will the happy couple and their twins celebrate the big day? Well, Mariah and Nick got a head start last Friday by renewing their wedding vows in Paris. Her rep tells E! News that the couple held an "intimate ceremony" at the "summit of the Eiffel Tower" around 12:30 a.m. local time.
There's a photograph circulating of Mariah dressed in a white mermaid gown, with Cannon holding her hand while down on one knee. The Eiffel Tower is seen in the background.
Mariah tweeted Friday, "Tonight was an incredible night, I can't express how amazing it was to renew our vows in Paris at the top of the Eiffel Tower."
On Monday afternoon, Mariah is scheduled to perform at Top of the Mountain, the traditional closing concert held each year at Ischgl [ISH-gul], the world-famous ski resort in Austria.
Mariah recently tweeted, "very excited to celebrate #dembabies first birthday...I can't even believe it's been a year.. wow!!!" On Friday, she tweeted that she was shopping with Nick for the twins' birthday in Paris.
Copyright 2012 ABC News Radio