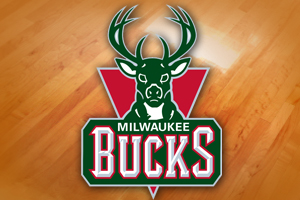 MILWAUKEE, WI (WSAU) The Milwaukee Bucks will host Sacramento tonight. The Bucks are 10-and-9 after their nine-point victory at Brooklyn on Sunday – and the Bucks have gotten better with the help of a stepped-up defense. Milwaukee is ranked sixth in the N-B-A in steals, with an average of just over eight-and-a-half a game. And they've led to more than 16 fast-break points a night – putting the Bucks eighth in that category.
Point guard Brandon Jennings leads the way with almost two-point-six steals per game. That's the third highest in the N-B-A, behind only Mike Conley of Memphis and front-runner Chris Paul of the L-A Clippers.
Jennings says he plays in the opponents' passing lanes and tries to poke at the ball as much as possible. Bucks' coach Scott Skiles says Jennings is being smart about it – and he's doing a good job of pressuring the opponents' ball-handlers. Jennings has 49 steals this season, including five on Sunday night at Brooklyn. Bucks' center Ekpe Udoh and forward Ersan Ilyasova missed practice yesterday – and coach Scott Skiles is not sure if they'll be able to play tonight against Sacramento.
Both were hurt in Sunday night's win over Brooklyn. Udoh has a strained left wrist, and Ilyasova has a bruised lower leg. Mike Dunleavy has missed four-of-the-last-five Bucks' games with a bruised bone in his left knee – and his playing status is uncertain for tonight as well.