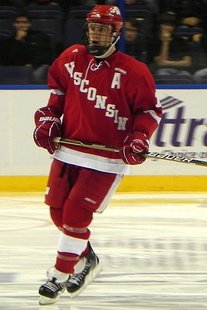 MADISON, WI (WSAU) The Wisconsin men's hockey team shut out Alabama-Huntsville 5-0 last night in Madison. The Badgers wasted no time getting on the board, as Nick Kerdiles scored four minutes into the game off an assist from Kevin Schulze.
Michael Mersch made it 2-0 Wisconsin just two minutes later. And both Kerdiles and Mersch each had two goals on the night.
The Badgers earned their first home win of the season, as they improved to 3-7-and-5 – and they're now 1-4-and-2 at home. Alabama-Huntsville fell to 3-13-and-1.
The two teams will close out their weekend series tonight at the Kohl Center.