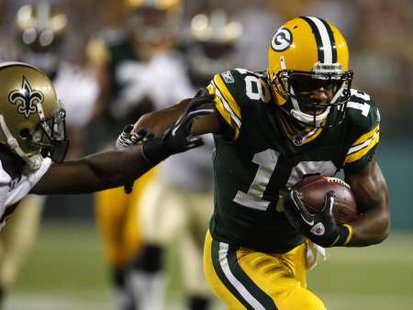 GREEN BAY, Wis. (WSAU) - Green Bay Packers' coach Mike McCarthy says he will not take receiver Randall Cobb off the punt-and-kickoff return teams, for fear of what happened yesterday.
Cobb hurt an ankle while returning a punt in the third quarter of the Packers' home victory over Tennessee. In his regular Monday news conference this morning, McCarthy had no new information on Cobb's injury – but he said Cobb himself did not seem very concerned, and he's such a positive individual. The coach said he understood the risk of having Cobb on both special teams and the Packers' offense. But McCarthy said quote, "I don't understand how you play scared … You can't sit here and say special teams (are) important if you don't put a guy like Randall Cobb out for a return."
He said Cobb's returns often give the Packers great field position – and it's an even bigger factor in playoff games. McCarthy said the coaches would hang around today. But except for optional weight training or treatments, the players are off until Wednesday – when they start practicing for next Sunday's regular season finale at Minnesota.
Also, corner Davon House is having tests today on a shoulder he injured yesterday. It's the same shoulder that kept bothered the second-year House earlier in the season.