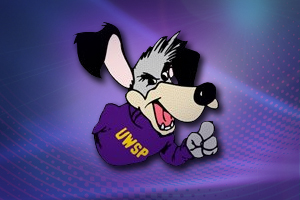 ADRIAN, Mich. – Seven different Pointers tallied goals as the UW-Stevens Point men's hockey team skated past the No. 5 Bulldogs of Adrian College, 7-4.
Box Score | Postgame Interview
Alex Brooks (Grand Rapids, MI) got things going at the 12:10 mark of the opening period , scoring his first of the season off assists from Josh Daley and Garrett Ladd (Fenton, MI).
Daley got in on the scoring next, finding the back of the net for his second of the season, giving UWSP the 2-0 edge after the opening period.
In the second, the Pointers tacked on goals from Kyle Heck (Plover, WI/SPASH) (seventh of the season), Evan Dixon (Novi, MI) (second of the season), and Scott Henegar (Trenton, MI/Trenton) (third of the season) to take a commanding 5-0 lead after two.
Adrian got on the board at the 1:17 mark of the third, but goals fromBrandon Busse (Stevens Point, WI/SPASH) and Alex Kromm (Penticton, BC) gave UWSP the 7-1 edge midway through the final stanza.
A late flurry of 6-on-4 goals by the Bulldogs over the final 1:15 made the final 7-4.
Brandon Jaeger (Champlin, MN/Champlin Park) tallied 29 saves in goal for the Pointers, picking up his fourth straight victory in net.
The Pointers (8-5-1) and Bulldogs (9-1-0) return to action on Sunday, Jan. 30. At Arrington Ice Arena in Adrian.
The following link takes you to UW Stevens Point's Athletics webpage: Pointers roll past previously unbeaten Adrian, 7-4