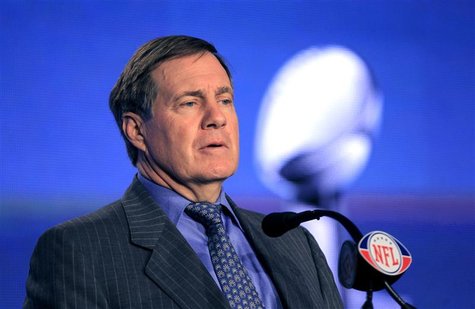 By Simon Evans
INDIANAPOLIS (Reuters) - Super Bowl fans will enjoy a halftime concert from Madonna on Sunday but New England Patriots head coach Bill Belichick is concerned about the impact of the break on his team - so much so that he simulated the extended interval.
"Normally our halftime is 12 minutes and this halftime will be closer to 30, so two and a half times as long. I think it really gets into a whole restarting mentality," Belichick told reporters Friday.
"It's not like taking a break and coming out in the second half, it is like starting the game all over again," he added.
Belichick is known for his attention to detail and said it was not enough to just remind the players about the extended halftime.
"We tried to simulate that on practice on Wednesday where we had the players go through that process of restarting.
"It's the kind of thing you can have a meeting about, you can talk about... but I just felt it was beneficial for our team this year to actually put them through that.
"Go out there and warm up, practice, take a break, shut it down for a half hour, go into the locker room and simulate what a halftime would be in terms of corrections, adjustments and restarting our bodies, both mentally and physically to restart the game," he added.
Lucas Oil Stadium is also an indoor venue, where the noise levels are significantly higher and Belichick has also had his team practice to blaring rock music to make sure they are ready for non-verbal communication on Super Bowl Sunday.
The Patriots coach even made sure to include some Madonna songs on the playlist along with those of his friend, and New England fan, Jon Bon Jovi.
(Editing by Steve Ginsburg)