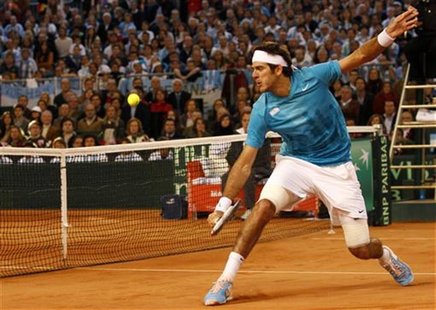 BUENOS AIRES (Reuters) - Former U.S. Open champion Juan Martin Del Potro has decided not to play for 2011 finalists Argentina in their Davis Cup first round tie away to Germany next month citing risk of injury due to changing from hard courts to clay.
Germany will hold the tie in Bamberg from February 10-12 on a clay court, which does not suit Argentine fast court specialists Del Potro and David Nalbandian. Spain beat Argentina in the 2011 final on clay in Seville last month.
Del Potro's coach Franco Davin said in an interview published on Friday that their decision was based on the demands of the calendar when the 23-year-old world number 11 will be playing on hard courts before and after the Davis Cup tie.
"We're not going to play the Davis Cup in Germany. It was a tough decision but we took it evaluating a lot of things. Germany chose that (slow) surface knowing it would be very difficult for Del Potro," Davin told the daily La Nacion.
"(Germany's captain Patrick) Kuehnen was at the final in Seville and he thought it through well. Juan's physical condition is fundamental. To play on clay and the next day be competing on cement is a very high risk," he said.
"Even more so because afterwards we have a calendar of seven weeks in a row, from Rotterdam to Miami."
Del Potro has been prone to injury in his short career, notably requiring wrist surgery early in 2010, six months after winning the U.S. Open final for his first grand slam title.
His decision to make himself unavailable for the first round tie, likely to be criticized at home where internal team problems have at times thwarted attempts to win the famous salad bowl for the first time, will weaken Argentina.
New captain Martin Jaite, who replaced Modesto Vazquez after the Seville defeat, will need a strong team to face a German side that could include world number 23 Florian Mayer, Philipp Kohlschreiber (43) and Philipp Petzschner (10 in doubles).
Argentina, who will enjoy home advantage against all other potential rivals from the quarter-finals if they get past Germany, will almost certainly include Nalbandian (ranked 64), Juan Monaco (26), Juan Ignacio Chela (29) and Eduardo Schwank (31 in doubles) in their team.
(Reporting by Luis Ampuero, writing by Rex Gowar; Editing by Alison Wildey)