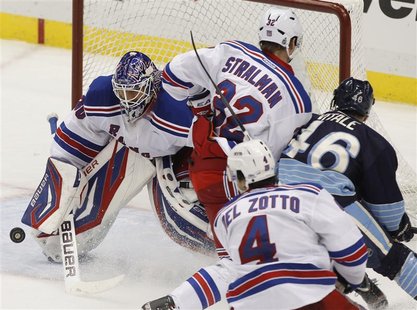 (Reuters) - The New York Rangers had goaltender Henrik Lundqvist to thank for a 3-1 win over Pittsburgh after they were completely outplayed by the Penguins for most of the game at the Consol Energy Center on Friday.
The Penguins outshot the Rangers 38-21 but could only generate one goal from Ben Lovejoy on a two-on-one rush five minutes into the game.
Following the Pittsburgh goal, Rangers coach John Tortorella called a timeout to inspire a team who had not yet registered a shot on goal.
"It looked early on like we were a team that was saying: 'Uh oh, we're tired, we've won a lot of games here lately, this may be just our bad night,'" Tortorella told reporters. "We played in spurts after that, but Lundqvist was unbelievable."
Although the Penguins continued to dictate play, the Rangers tied the score on a rebound goal by Brad Richards late in the first period.
Brandon Dubinsky scored a shorthanded goal early in the second on a feed from Ryan Callahan, who made a beautiful move around a sprawled Penguins defender.
Penguins goalie Marc-Andre Fleury misplayed a loose puck early in the third period which allowed Derek Stepan to further extend the Rangers lead with Lundqvist protecting it through to victory.
"A lot of that game is the way we need to play, but it comes down to a couple of mistakes by our team," Penguins coach Dan Bylsma said. "They come out of the (first) period 1-1 even though we dictated the first 12-14 minutes."
The Penguins believed they narrowed the Rangers lead to one in the third period but a goal was disallowed because Chris Kunitz collided with Lundqvist prior to the puck going in.
Pittsburgh had more bad news when center Jordan Staal left the game in the third period with a left knee injury sustained in a collision with Mike Rupp, who was assessed a kneeing penalty.
"I'm turning, got my legs out, I don't move my knee but I understand the call," Rupp said. "I'm 6-5, he's 6-4, we've got long legs and sometimes those things happen. I hope he's all right."
(Reporting by Mike Mouat in Windsor, Ontario, editing by Nick Mulvenney/Peter Rutherford)