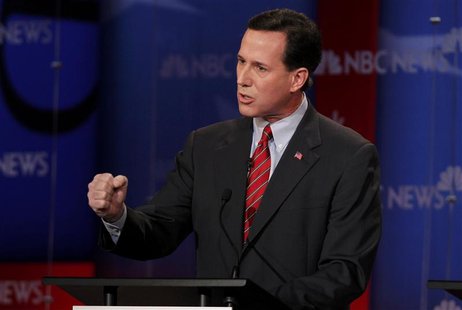 By Sam Youngman
Concord, New Hampshire (Reuters) - Sleeper Republican candidate Rick Santorum wants to show voters he is more than just a social conservative in a sweater vest, and judging by a pair of debate performances this weekend, he might be making headway.
Coming in from the fringes of the presidential nomination process after a stunning second place in Iowa, Santorum has tried to broaden his appeal in areas of foreign policy and the economy while tamping down his past vehemence on social issues like gay rights and abortion.
Although he has his sights firmly set on church-going South Carolina's contest on January 21, the former senator from Pennsylvania and favorite of the religious right still needed to score in more moderate New Hampshire's primary on Tuesday.
He came to the Granite State looking to take libertarian Ron Paul down a few pegs as both men vie for the runner-up spot next to former Massachusetts Governor Mitt Romney. Santorum ended up attacking both with blistering criticism.
During the second New Hampshire debate, hosted on Sunday by NBC and Facebook, Santorum repeatedly tried to tear down Paul, piling on moderator David Gregory's declaration that despite Paul's long tenure in Washington, the Texas congressman has very few legislative accomplishments to his name.
"He's never really passed anything," Santorum said. "He's never been able to accomplish anything. He has no track record. He's been out there on the margins."
Right out of the gate, he questioned Romney's record in neighboring Massachusetts. "If his record was so great as governor of Massachusetts, why didn't he run for re-election?" He then turned to Romney and said: "If it was that great, why did you bail out?"
Santorum also softened his strident tone on social issues, promising not to discriminate against gays if elected president.
Santorum, who has come under attack for comparing gay relations to both incest and bestiality, said he would always be "respectful" when debating gay rights. Santorum has faced testy crowds, and even been booed on the issue, in New Hampshire where gay marriage is legal.
When asked how he would respond to his son telling him that he was gay, Santorum said: "I would love him as much as I did the second before he said it."
Fergus Cullen, former chairman of the New Hampshire Republican Party, said afterward "I think Santorum did well."
Santorum showed his satisfaction with his sudden prominence in the topsy-turvy Republican race.
"We've gone from 3 percent (in the polls) to double digits," Santorum said after the second of the two New Hampshire debates. "I think that's pretty good."
Even if he himself said he has no hope of winning New Hampshire as he headed off to South Carolina to campaign after the debates, Santorum did appear to be getting some traction.
Norman Stuart, 71, of Rochester, New Hampshire, said he was still undecided between Santorum and Romney, with his views more in line with Santorum's while he admired Romney's business background.
"I think it's between Romney and Santorum," said Stuart.
(Additional reporting by Jason McLure and Steve Holland; editing by Mary Milliken)