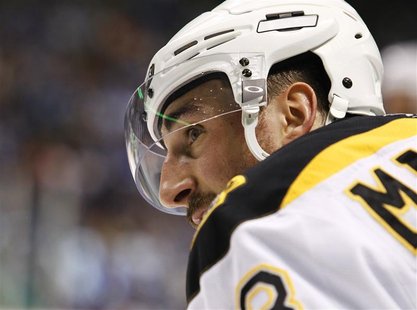 (Reuters) - Boston Bruins forward Brad Marchand has been suspended for five games for an illegal low hit on Vancouver Canucks defenseman Sami Salo, the National Hockey League (NHL) said on Monday.
The incident occurred late in the second period of the Bruins' 4-3 home loss on Saturday when Marchand clipped Salo at the knees along the boards and was assessed a major penalty along with a game misconduct.
Marchand, who was classified as a repeat offender having been suspended for two games last March, will forfeit $152,439.02.
"Rather than deliver a shoulder-to-shoulder check, Marchand drops down dangerously low into Salo's knees area," explained Brendan Shanahan, the NHL's vice-president of player safety and hockey operations.
"We feel this was a predatory low hit that was delivered intentionally by Marchand to flip his opponent over him."
(Reporting by Steve Keating in Toronto; Editing by Mark Lamport-Stokes)