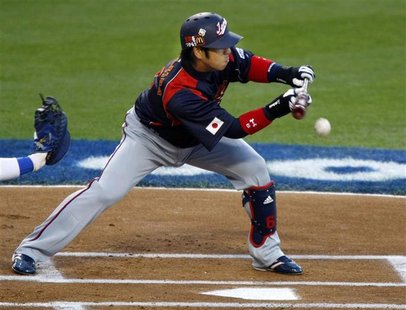 TOKYO (Reuters) - Japanese shortstop Hiroyuki Nakajima will make another attempt to join a Major League Baseball club as a free agent next season after talks with the New York Yankees broke down.
The 29-year-old re-signed with Japan's Seibu Lions after negotiations with the Yankees collapsed last week.
"I've already put it behind me," Nakajima told reporters on Tuesday after the Yankees, who won the rights to negotiate exclusively with the player, pulled the plug on a deal.
The Yankees got their $2.5 million back under the terms of Japan's posting system after failing to reach an agreement with Nakajima within the 30-day window.
Nakajima returned to Japanese Pacific League side Seibu, though insisted he will be back for another shot at the majors after he qualifies for free agency later this year.
"If the opportunity comes around again, I will take it," said Nakajima, who was viewed by the Yankees as a back-up for Derek Jeter and Alex Rodriguez.
"I knew the terms of the deal were not going to be that good. When it fell apart I wasn't too shocked," added Nakajima, a career .302 hitter in 10 seasons with the Lions.
"I wasn't bothered about how much I got paid but it was little details. I was okay being back-up for a year but it was all on their terms - back-up beyond a year even."
Nakajima played at the 2008 Olympics and impressed at the 2009 World Baseball Classic, where he batted .364 with six walks and six RBIs in seven games as Japan won the title.
"My agent told me if this was all we were getting I would be better Off waiting a year and talking to more than one team," he added.
(Reporting by Alastair Himmer; Editing by John O'Brien)