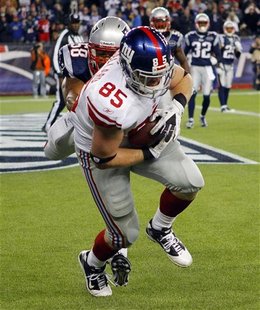 By Larry Fine
EAST RUTHERFORD, New Jersey (Reuters) - New York Giants tight end Jake Ballard missed practice for Sunday's NFC title game because of swelling in his knee, and several other Giants were limited in training but listed as probable for the showdown in San Francisco against the 49ers.
Ballard was listed as questionable for the clash that will produce the NFC representative in the Super Bowl, while center David Baas (illness), wide receiver Hakeem Nicks (ankle) and running back Ahmad Bradshaw (foot) were considered probable for the game.
"They did a little procedure yesterday and he's got a little swelling," Giants coach Tom Coughlin told reporters about Ballard, declining to divulge anything more other than to say it did not involve surgery.
"He's very important, as they all are. He's had an outstanding year," Coughlin said. "He gives us a big strong body blocking and also has done a very good job of getting open and catching the ball."
Nicks, who caught four touchdown passes in New York's playoff wins over the Atlanta Falcons and Green Bay Packers, turned his ankle during Thursday's practice but it was not considered a serious problem.
"He's got a little basketball ankle that from time to time he rolls, and he did it to a certain extent this afternoon," the coach said. "He doesn't think it's going to be too bad."
Baas missed practice because of a stomach bug. Quarterback Eli Manning quit during practice Wednesday because of a similar complaint, but returned to his regular work routine Thursday.
Coughlin was asked if the team was taking any precautions to keep the sick bug from racing through the team.
"Everybody's wearing masks, everybody's washing their hands, everybody's doing everything they can. Like when your sister came home with whatever and you got it. So there's where we are," joked Coughlin.
Offensive lineman Kevin Boothe was unconcerned about his line-mate.
"The good thing is Eli bounced back quickly. Dave is already starting to feel better so he'll be fine," Boothe said.
Bradshaw's foot problem has been a lingering issue for the Giants, who have routinely limited him in practice to ensure he is ready to go by game time.
The possible loss of Ballard was of greater concern and could have an impact on the Giants' attack, both on the ground and in the air.
"They are vital," Boothe said about the tight ends. "In the run game they're an extra lineman and in the pass game they're an extra receiver. Often the big runs result from their blocks that seal the edge or cut off a man off the edge."
Travis Beckham, who along with Bear Pascoe serve as back-ups to Ballard, said the tight end could be a factor in Sunday's game and that he was ready if needed.
"I think I did a good job when he was out earlier," Beckham said. "I'm sure he'll be back tomorrow, but I'm ready to step in."
"I think there's some holes, some gaps in the defense we saw from the last time we played them" that could be exploited by a pass-receiving tight end, he said.
(Editing by Julian Linden)