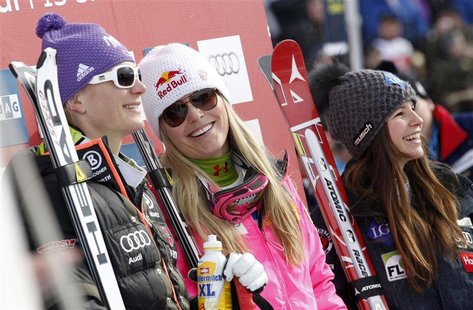 By Patrick Lang
ST. MORITZ, Switzerland (Reuters) - Lindsey Vonn continued her harvest of downhill laurels when she clinched her 24th victory in Alpine skiing's blue-riband discipline on Saturday.
The American, who won Friday's super-combined in the Swiss resort, triumphed again with a time of one minute 43.65 seconds and will go for the hat-trick on Sunday, when another super-combined is scheduled.
Vonn beat closest rival Maria Hoefl-Riesch of Germany by an impressive 1.42 seconds at the finish.
Liechtenstein's Tina Weirather was third, 0.05 behind Hoefl-Riesch, last season's overall World Cup winner.
Vonn has now won 49 World Cup races, half of them downhills, and is the second most successful female downhill skier of all time, level with retired Austrian Renate Goetschl.
In the World Cup standings, she leads Slovenia's Tina Maze, who finished fourth, by 352 points.
Downhill victory in St. Moritz had long eluded Vonn, who had been competing in the former Olympic resort since 2001.
"It was important for me, and it's also my eighth win this season, as much as I won last year," the American said. "In my best season I won 11 and maybe I can do even better this time.
"For once I didn't make any mistakes while in the past there was always a problem on this course.
"It's just a great day. I had my problems earlier this season but now I'm exactly where I wanted to be."
Hoefl-Riesch has yet to win a race this season but said she was not down-hearted.
"Lindsey was just out of reach today but it's good to see I'm consistent in downhills," she said. "I'm sure I'll be able to win a race this season."