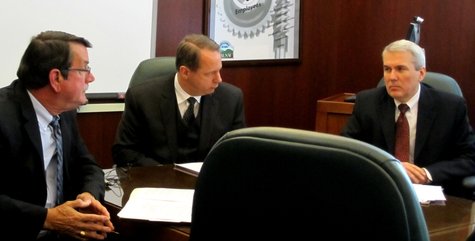 WAUSAU, Wis. (WSAU) – Wausau's mayor says the city will be "as active as is needed" in discussions that could land a new medical school in central Wisconsin.
Mayor Jim Tipple spoke late Wednesday for the first time since Aspirus announced this week that an osteopathic medical school would not be feasible if it were to be run by multiple health care systems.
A top Aspirus official said the health care system would not pursue the medical school any further though it left the door open for the Wisconsin College of Osteopathic Medicine to continue its study. The health care system will support local efforts to prevent a looming doctor shortage.
"In a feasibility study, maybe there's a different model that could move this whole project forward," Tipple said.
Marathon County administrator Brad Karger was in meetings Thursday afternoon and unavailable for comment.
But a Wausau doctor is skeptical that the city even needs a medical school.
"The basic elements necessary to accomplish a medical education at the graduate (medical school) level are missing here," Dr. Tom Rengel wrote in a commentary published Wednesday in the Wausau Daily Herald. Rengel practices intensive care medicine.
"Flooding the state with suboptimally trained primary care physicians can create more problems than solutions for patients and our economy," he wrote.
WCOM dean Dr. Gregg Silberg says he wants to exhaust all options before giving up on the quest for a school.
"If it becomes clear after going down possible avenue...that it's not feasible, that's when you do have to accept the situation that it's not feasible," he said.