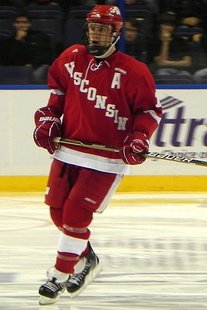 MADISON, WI (WSAU) Wisconsin scored the first two goals of the game at the Kohl Center last night, but couldn't hold the lead. Colorado College found the net in overtime to win 5-4 on a night honoring Badger Bob Johnson.
Michael Mersch scored first less than 90 seconds after the game started. Brad Navin's goal made is 2-0, but the Tigers tied it after two periods. Both teams scored twice in the third period, the Badgers hitting the scoreboard on goals by Jake McCabe and Keegan Meuer. Meuer's score tied the game with 4:18 left and sent it into overtime.
Just 25 seconds into the extra frame, Colorado College scored to send the crowd home disappointed. The visitors out-shot Wisconsin 39-29.
The Badgers came into the game killing the last eight power plays, but gave up two scores on three opportunities last night. The win breaks a three-game losing streak for Colorado College.
Wisconsin's record is now 1-3-1, including 1-1-1 in the WCHA. The Badgers go for the split tonight at 7 p.m. at the Kohl Center. You can hear the game on WSAU. The Wisconsin women's hockey team blanked a second straight opponent in a 2-0 win over Minnesota State yesterday afternoon. Goalie Alex Rigsby hasn't allowed a score in 129 minutes. Her defense only allowed 14 shots on the goal in the victory.
Erika Sowchuk put Wisconsin on the board first with a goal in the first period. Alev Kelter scored an insurance goal six minutes into the third.
The Badgers go for the sweep of Minnesota State this afternoon at 2 p.m. in LaBahn Arena.