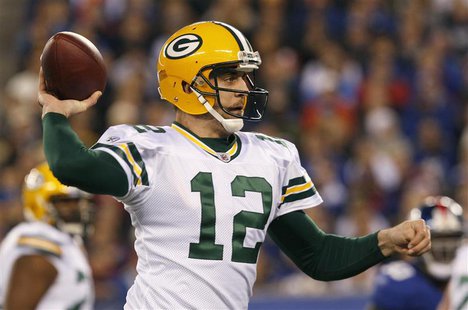 NEW YORK (TSN-WSAU) - The two most recent Super Bowl champions will meet on Football Night in America when the streaking Green Bay Packers visit the slumping New York Giants on Sunday night.
"Both teams this weekend, the last two Super Bowl winners, play," Giants coach Tom Coughlin said. "Each is in the lead in their division. So it's got a tremendous and exciting format."
Green Bay enters Sunday's game having won five straight games, tied with Denver for the longest current streak in the NFL.
Aaron Rodgers kept things rolling last Sunday with two touchdown passes, including the game-winner to Randall Cobb late in the fourth quarter as the Green Bay took a 24-20 win over the Detroit Lions in an NFC North battle at Ford Field.
Rodgers passed for 236 yards and an interception on 19-of-27 attempts with Cobb and Jermichael Finley each catching a score for the 7-3 Packers, who are now tied atop the NFC North with Chicago.
"We just had to have this win," said Rodgers. "We knew it was a struggle and we didn't play our best on offense. But when we needed it, everyone came through and this is a big one."
James Starks had 25 carries for 74 yards against Detroit while embattled placekicker Mason Crosby missed two field goals, but did make one late for Green Bay, which is 2-0 in division play this season and has won 24 of their last 28 regular-season games overall, the best record in the NFL over that span.
The reigning Super Bowl champion Giants, meanwhile, are coming off their bye week, a welcome respite considering their traditional struggles in November.
November Rain isn't just a painfully long power ballad by Guns N' Roses. It also describes the mood around the G-Men when the calendar flips from Halloween to Turkey Month.
The Giants and title-tested quarterback Eli Manning just can't seem to figure out things in the month and continued their now annual funk in Cincinnati back on Nov. 11 falling to Andy Dalton and the Bengals, 31-13.
Manning threw two interceptions and lost a fumble for the NFC East-leading Big Blue, which took a two-game losing streak into the break.
"I don't have anything I can say I was pleased with," said an angered Coughlin. "We need to play better.
Manning finished with just 215 yards on 29-of-46 attempts and did not throw a touchdown pass for a third straight game in Cincy -- his longest drought since his rookie season in 2004.
"I have to start playing better," Manning said. "We can fix it."
Some have speculated that Manning is fighting through a tired arm, something he denied
"I don't think so. I don't feel like it's tired," the veteran said.
This will mark the third straight year that the Packers and Giants have faced off in the regular season, the first time that has happened since 1985-87.
Two of the most venerable franchises in professional football history, the Packers and Giants have combined for 21 championships. Green Bay ranks No. 1 among all NFL franchises with 13 titles, while the Giants check in at No. 3 with eight championships.
Green Bay has won the last three regular-season meetings but the Giants stunned the Packers in a NFC Divisional playoff contest last season at Lambeau Field, a dominating 37-20 New York triumph.
"I think you learn that it's all about playing the right way at the right time and we didn't play our best football and they did," Rodgers said of last season's playoff loss. "They were the better team and they won, and that's why they moved on."
Overall the Pack holds a 31-24-2 edge in the all-time series, which includes a 4-3 postseason record.