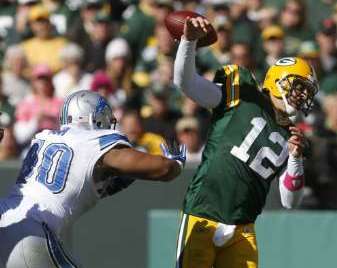 MILWAUKEE, WI (WSAU) Aaron Rodgers apologized to Packers' fans yesterday for the team's 38-to-10 loss to the Giants at New York last Sunday night. On his weekly Milwaukee radio show, the quarterback encouraged Packer Nation to quote, "stick with us" because the team's still in a good playoff position with five games left.
The 28-point margin of defeat was the biggest since Rodgers has been a starter – and it tied for the second-largest loss since Mike McCarthy became Green Bay's coach in 2006. Rodgers also said there was some validity to receiver Randall Cobb's remark that the Packers' "care level" was not present against the Giants. The quarterback said quote, "Each person has to look in the mirror after a game like that, and ask themselves how much heart they thought they played with."
Rodgers said he was personally prepared and focused. But he said the Giants' defense got to him for five sacks, and the Packer offense did not execute very well. He said the adjustments need to be made to correct the sack problem and quote, "We can't just drop back every time." Rodgers said the Packers need to incorporate more screens and running plays that give defenses a different look.