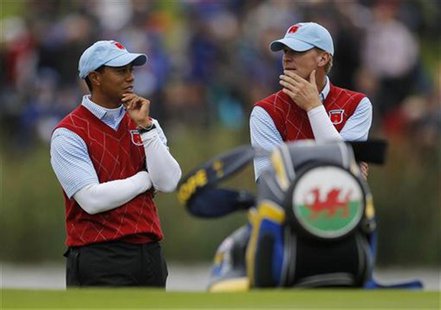 CHICAGO, ILL (WSAU) Madison golfer Steve Stricker will partner with Tiger Woods in this morning's anchor match for foursomes, as the 39th Ryder Cup gets underway at Medinah Country Club near Chicago. Stricker and Woods have had success as a pair for the U-S at previous international competitions. And they'll face Englishmen Justin Rose and Ian Poulter in the first of two events today.
Four matches of four-ball will take place this afternoon. A similar format is planned for tomorrow. And then, all 12 members of each team will square off in singles' matches on Sunday. Stricker will try to help the American squad win its second Ryder Cup in the last three.
The team of European golfers won the most recent Cup two years ago at Celtic Manor. Europe has won four-of-the-last-five Ryder Cups overall. The first team to 14-and-a-half points wins. But if there's a tie at 14, Europe will retain the Cup.