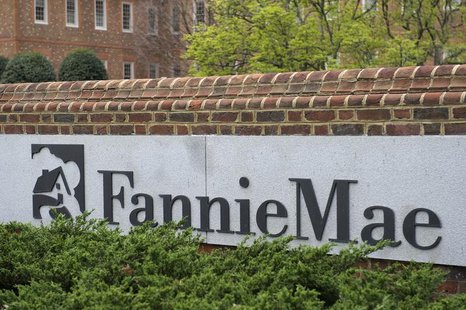 WASHINGTON (Reuters) - Fannie Mae posted a record $7.6 billion in quarterly earnings and expects to be profitable for the foreseeable future, in the latest sign the government-owned mortgage provider is benefitting from a recovering housing market.
With the quarterly earnings, the largest U.S. mortgage financier racked up a $17.2 billion profit in 2012, its first year in the black since 2006. Rising home prices and falling mortgage delinquencies have helped Fannie Mae and its smaller rival Freddie Mac.
Fannie Mae Chief Executive Officer Timothy Mayopoulos said in a call with reporters on Tuesday, "2012 really marked a turning point for us."
Fannie Mae said in its filing that despite its higher profit, it was not taking a tax-related gain that could have added as much as $59 billion more to profit. Recording those gains would have forced the company to pay a bigger dividend to the U.S. Treasury, and would have made less bailout support available to Fannie Mae in the future.
Fannie Mae said in a filing that it expects to start taking those tax-related gains as early as the first quarter of 2013.
The United States took over Fannie Mae and Freddie Mac in 2008, and eased some terms of the bailout earlier this year. Over time, the government is hoping to withdraw its support for the companies, which along with the Federal Housing Administration fund nine out of every ten new U.S. home loans.
The eased terms allow the mortgage companies to retain $3 billion in net worth, while all profits beyond that threshold are sent back to taxpayers. Previously, the companies had to draw down on lines of credit from the Treasury just to pay dividends to taxpayers.
The company missed its March 18 filing deadline for its fourth-quarter financial results and said it needed more time to analyze those so-called deferred tax assets, which are unused credits that can be used to cover future tax bills.
Fannie Mae has now paid back about $35.6 billion in dividends to the Treasury, bringing the cost of the taxpayer bailout to about $116 billion.
Freddie Mac has drawn a cumulative $71.3 billion in aid from the Treasury, and has already paid back $23.8 billion for the government aid that has kept it afloat. The company, in its annual report, said that current conditions didn't require it to reverse any of its $31.7 billion in deferred tax assets as of the end of 2012.
Fannie Mae and Freddie Mac buy and guarantee home loans that meet their standards and package them into bonds.
Since the morning announcement of Fannie Mae's record earnings, the risk premiums or spreads of both Fannie Mae's and Freddie Mac's bonds over comparable Treasuries narrowed up 0.02 percentage point from Monday's close. Five-year Fannie debt was yielding 10 basis points above comparable Treasuries.
"This says the housing market is doing well. Their losses on their foreclosed homes are falling but the rate is still quite high. Rising home prices and falling delinquencies have improved Fannie's profitability," said Mary Beth Fisher, head of U.S. interest rates strategy at SG Corporate & Investment Banking in New York.
(Reporting by Margaret Chadbourn in Washington and Richard Leong in New York; Editing by Chizu Nomiyama, Nick Zieminski and Andrew Hay)