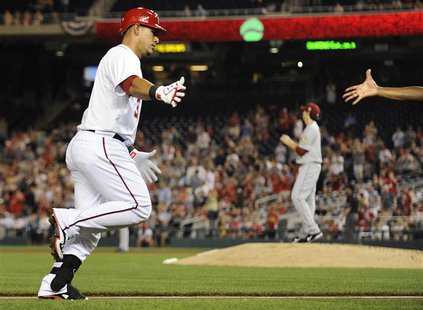 By Steve Ginsburg
WASHINGTON (Reuters) - Nearly 18 months after being kidnapped at gunpoint and held captive at a remote mountain lair in Venezuela, Wilson Ramos remains haunted by the memory.
The Washington Nationals catcher silently points to a tattoo on his muscular left forearm with the date he was rescued after a shootout between his captors and police.
He pauses a moment to gather his thoughts.
"That was a hard experience, terrible," he said softly, staring at the floor in the team clubhouse. "I will never forget that. That thing will always be in my mind.
"I'm happy to be here, just to be able to concentrate on baseball."
If the anguish of his two-day ordeal in the mountains was a test of his mental acumen, the 25-year-old Ramos was tormented physically last May in a game against the Cincinnati Reds.
The Venezuelan native retreated to field a passed ball and tore an anterior cruciate ligament (ACL) in his right knee when his spikes stuck in the grass.
He was lost for the season and forced to watch the Nationals amass Major League Baseball's best record on television.
"I heard something pop," Ramos told Reuters of the injury. "At that moment I thought I had lost everything. After the surgery, it was about working hard. All I could think about is, 'I want to come back. I want to come back.'"
Ramos is back and although he shares the catching duties with Kurt Suzuki, manager Davey Johnson gave him the starting assignment on Opening Day because of his rehabilitation work.
"He's as strong as a bull and with the hard work he did to get back as quickly as he did, he realizes what it feels like to be in a little better shape," said Johnson.
"From day one, he's been bouncing around as good as any of them."
Ramos has dropped nearly 20 pounds (9kg)from his 6-foot (1.8m) frame and is now about 235 pounds. He has also changed his batting stance, crouching just a bit more than a year ago.
Although he has only 17 at-bats heading into Friday night's key series against Atlanta, Ramos, a career .271 hitter in his fourth big-league season, is batting.353 with an on-base percentage of .450.
RAMOS 'EXCITED'
Nationals ace Stephen Strasburg, who had Tommy John ligament surgery on his right arm in 2010, is delighted to see his batterymate back on the field.
"He's a great catcher," said Strasburg. "Defensively he sees the ball really well. And having his bat back in the line-up is huge. Hey, he's a great guy.
"And obviously, I can relate to having him come back from a serious injury."
Strasburg could not, however, relate to Ramos's kidnapping calamity.
"When you talk about stuff like that, playing well doesn't even matter," he said. "The fact that he and his family are safe and that he's able to go out there and have fun and playing the game, that's the big thing."
Ramos agrees, saying he is "excited" to play and is looking forward to helping the Nationals reach the World Series.
"It's been a long time that I've waited for this," he said. "It was a hard surgery and then there was rehab. But I feel better now than before I got hurt."
(Editing by Frank Pingue)