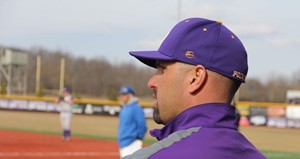 WHITEWATER, WI (UWS) - UW-Stevens Point baseball head coachPat Bloom earned his 300th career victory when Ryan Schilter(West Bend, WI/West) touched home plate in the bottom of the 19th inning as the Pointers outlasted UW-Whitewater in the first game of Sunday's doubleheader, 5-4.
UWSP dropped the second game, 6-5.
Unfavorable weather conditions in Stevens Point forced the Pointers to play as the home team in Whitewater.
Schilter led off the 19th inning with a single and later swiped second base to put himself into scoring position with one out.Jimmy Coady (La Crosse, WI/Aquinas) was hit by a pitch, and Casey Barnes (Mequon, WI/Homestead) grounded out to advance Schilter to third with two outs. Schilter then scored the game-winning run on a wild pitch.
Whitewater opened the game by plating one run in the first, but the Pointers (13-6, 5-3 WIAC) quickly responded in the bottom of the frame. Barnes drove in two runs with a bases-loaded single and Brandon Kranz (Waukesha, WI/West) smacked an RBI single to giveUWSP a 3-1 lead. The Warhawks (18-4, 9-1 WIAC) scored a run in the second inning and tied the game 3-3 with a run in the fourth.
Clint Rose (Watertown, WI/Watertown) crossed home plate in the eighth inning to give the Pointers a 4-3 lead, but Whitewater tied the game when Dylan Friend hit an RBI single in the ninth inning.The UWSP bullpen allowed just one earned run through 16 innings. Brad Stroik (Stevens Point, WI/SPASH) earned the win when he tossed the final seven innings of the game while allowing only four hits and two walks.
The Pointers jumped out to a 4-0 lead through three innings when they scored a pair of runs in both the first and third innings.
Barnes hit a two-RBI single to score both Dan Douglas (East Troy, WI/East Troy) and Schilter in the first inning, and Sean Gerber (Stoughton, WI/Stoughton) belted a two-run double in the fourth inning.
Whitewater stormed back with a four-run fourth inning, and then post two more runs in the fifth inning to claim a 6-4 lead.
Rose's RBI single to score Barnes in the ninth inning cut the deficit to 6-5, but Schilter grounded into a fielder's choice to close the game.
UWSP is scheduled to host UW-Stout in a doubleheader on Wednesday, April 17 starting at 1 p.m.