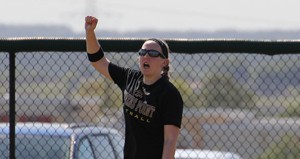 DENMARK, WI. (UWSP) – The UW-Stevens Point softball team split a double header with St. Norbert Saturday afternoon, falling game one 3-2 and winning game two 3-2.
The Pointers and Green Knights went into the bottom of the seventh inning tied 2-2 before St. Norbert's Steph Brunette knocked a walk off single to left center. UWSP broke up a scoreless game in the top of the fifth inning plating a run as Alicia Hahnemann (Appleton, WI/West) hit a sacrifice fly to score Madalyn Sawdey. The Green Knights answered in the home half of the inning, plating two runs of their own to take the 2-1 lead.
Jordon Schreiner (Kaukauna, WI/Kaukauna) knotted the game at 2-2 in the sixth as she belted a solo homerun over the right field fence. St. Norbert made the last stand, with the walk off single, to take the 3-2 win. Schreiner led the Pointers at the plate, going 2-for-3, plating an RBI and scoring a run.
Game two:
The Green Knights got on the board early but the Pointer bats battled back to pick up the comeback victory. St. Norbert plated a run in the first and fourth inning to take the two run advantage but that was all they would score as Kali Riddell (Bloomington, IL/University) shut them down the rest of the game.
The Pointers bats came alive in the fifth as they plated three runs.Katie Krueger (Plover, WI/SPASH) got UWSP on the board as she knocked a solo homerun. Hahnemann hit a double off the left field fence, scoring Sawdey and Maggie Vils (Mosinee, WI/Mosinee), which proved to be the game winning runs.
Riddell earned the win on the mound throwing all seven innings and allowing just five hits. UWSP will travel to Decorah, Iowa Sunday, April 21 to take on Luther in non-conference action. Game times set for 1 p.m. and 3 p.m.