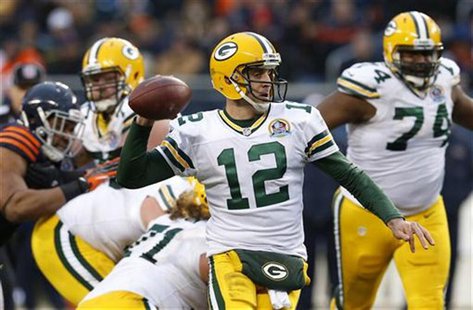 CHICAGO (WSAU-TSN) Aaron Rodgers and Randall Cobb both returned from injuries on Sunday with Green Bay's division hopes on the line and they came through.
Rodgers found a wide open Cobb on 4th-and-8 for a 48-yard score with just 38 seconds to play to help the Packers with the NFC North with a 33-28 victory over the Chicago Bears.
Green Bay has the fourth seed in the upcoming NFL playoffs and will host the San Francisco 49ers in the wild card round of the playoffs next week. The game will kick-off at 3:25pm CT. Gameday coverage on WSAU AM-550 FM-99.9 will start at 1pm.
Rodgers had been out since a Nov. 4 game against these Bears due to a fractured left collarbone. He returned to practice this week and finished the game 25-for-39 for 318 yards, two touchdowns and two interceptions for the Packers (8-7-1), who won three of their last four games of the season to claim the division for a third straight year.
Cobb, who had been out since fracturing his right tibia on Oct. 13 against Baltimore, caught both touchdown passes by Rodgers, while Jordy Nelson had 10 grabs for 161 yards.
Chicago (8-8), meanwhile, dropped its final two games of the year with its playoff hopes in its own hands. The team has now missed the playoffs three straight seasons.
Jay Cutler completed 15-of-24 passes for 226 yards, two touchdowns and one interception, while Matt Forte carried the ball 22 times for 110 yards and two scores with four catches for 47 yards and a TD in the loss.