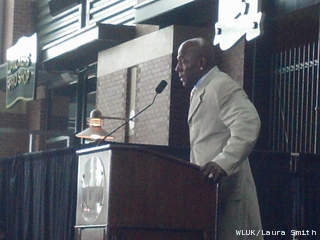 GREEN BAY (WSAU) Like other Titletown heroes before him, Donald Driver will have a street named after him in Green Bay. Mayor Jim Schmitt told several thousand fans at Driver's retirement ceremony today that a small street near the Titletown Brewing Company will be named "Donald Driver Way." The brewery and restaurant are located on the west edge of the city's downtown. Also, Schmitt said the statue of a Packers' receiver in front of the restaurant will be changed from Number-88 to Driver's Number-80.
Governor Scott Walker also attended the ceremony, after Driver invited him. The governor said Driver has done a fantastic job entertaining Wisconsinites between his 14 years as a Packer and his victory on "Dancing With the Stars."
Packers' C-E-O Mark Murphy and coach Mike McCarthy also made remarks at the ceremony. And general manager Ted Thompson said Driver has been a blessing for the team – and he said the contributions by Driver and his wife Betina have been "phenomenal."
The 38-year-old Driver told the crowd that he walks away from the game knowing that he gave all he could, so quote, "I owe it to the fans and this fine organization not to tarnish the legacy that they've established in me and my family." He leaves as the Packers' all-time leader in catches and receiving yards. Driver said he thinks he could still play, but doesn't want to play for anyone but the Packers.