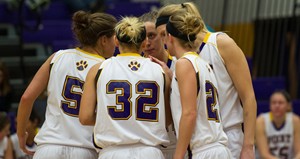 OSHKOSH, WI (UWSP) - The
UW-Stevens Point women's basketball team lost on the road
to UW-Oshkosh Wednesday night in the final seconds, 56-53.
Box Score
Sam Barber
(Schofield, WI/D.C. Everest/Winona St.) beat the first-half buzzer to put UWSP (18-5, 10-4 WIAC) on top 31-22 entering halftime.Oshkosh (18-4, 10-3 WIAC) reclaimed the lead less than four minutes into the second half when a jumper by Heather Conroy put the Titans ahead 34-33.Oshkosh's lead peaked at 42-38 with 11:21 left in the second half, but Baber hit a 3-pointer with 9:15 on the clock to put the Pointers ahead 44-43.Neither team led by more than three points for the rest of the game.With the Pointers trailing 53-51,
Myranda Tyler
(Grafton, WI/Grafton) hit a game-tying layup with 26 seconds remaining.However, Katie Kitzke connected on a 3-pointer with three seconds left to secure the win for the Titans.Barber led all scorers with 24 points and grabbed a game-high 14 rebounds for the Pointers.Kitzke led the Titans in scoring with 14 points.The Pointers return home Wednesday, Feb. 13 when they host UW-Stout for a 7 p.m. tipoff.