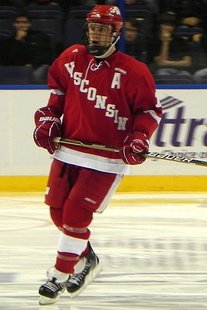 MADISON, WI (WSAU) It's not the kind of record a team would try to set, but it was still one point in the WCHA standings. Wisconsin wanted two. The Badgers worked overtime, but wound up with a 2-2 tie at home against Bemidji State. The seventh tie of the season for Wisconsin matches the school's all-time record.
Nic Kerdiles put Wisconsin on top with a goal at 11:55 of the first period. He converted a rebound while the Badgers had power play opportunity. Frankie Simonelli got the assist. After Bemidji State tied the score at 1-1, Ryan Little put Wisconsin back on top with less than a minute to go in the second period. Sean Little and Jefferson Dahl had assists there. Goalie Joel Rumpel earned the praise of his coach for making four clutch saves while the visitors had a two-man advantage.
Wisconsin outshot the Beavers 40-27, but couldn't manage to score the game winner. The Badger record improves to 11-9-7, including 8-6-7 in conference play. The same two teams meet tonight in the Kohl Center starting at 7 p.m. Six different Badgers scored goals as the Wisconsin women's hockey team blanked St. Cloud State 6-0. Both teams had a bye last week
. Karley Sylvester put the Badgers on top on a power play goal, then Saige Pacholok and Alev Kelter made it 3-0 by the time the first period ended. Erika Sowchuk, Brianna Decker and Courtney Burke also had goals in the rout.
Wisconsin has played St. Cloud State three times and scored six goals in each game. The Badgers record is 16-9-2, including 12-9-2 in the WCHA. They go for the sweep this afternoon at 2 p.m. before the home crowd.