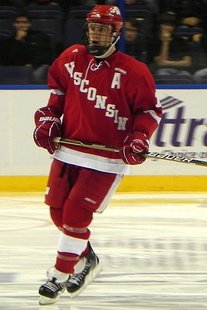 MADISON, WI (WSAU) The Wisconsin men's hockey team will play second-ranked Minnesota tonight in Madison. And then they'll take off for Chicago, for an outdoor game at Soldier Field on Sunday afternoon in the Hockey City Classic.You can hear both games on WSAU.
The 18th-ranked Badgers are in fifth place in the W-C-H-A with 25 points. The Gophers are third in the conference with 26. Saint Cloud State leads the conference with 32 points, and the surging Badgers still hope they can knock off the leaders. Wisconsin ends the regular season at home against Saint Cloud State in three weeks.
The Badgers are 9-6-and-7 in the conference and 12-9-and-7 overall, after a win and a tie against Bemidji State last weekend.
Meanwhile, the seventh-ranked Wisconsin women will host Minnesota-Duluth tomorrow night and Sunday afternoon. It's the final home series of the regular season for Wisconsin, and both games in the new LaBahn Arena are sold out. The Badgers are third in the W-C-H-A with 43 points. They'll face a fourth-place Duluth squad which has 40 points.