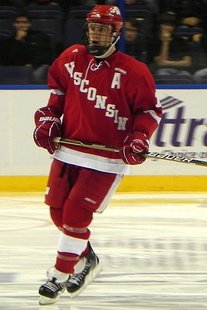 MADISON, WI (WSAU) The Minnesota Golden Gophers lead the WCHA by scoring on 25 percent of their power plays and that record just got stronger Friday night. Finding the goal three times on four power plays helped the visitors edge the Wisconsin men's hockey team 3-2.
Nic Kerdiles actually put the Badgers on top at 14:32 of the first period, but Minnesota scored the next three. Tyler Barnes scored Wisconsin's second goal with just over a minute remaining.
Wisconsin record is now 12-10-7 overall, including 9-7-7 in the WCHA. Both teams travel to Chicago today to wrap up the weekend series with an outdoor contest at Soldier Field Sunday afternoon.