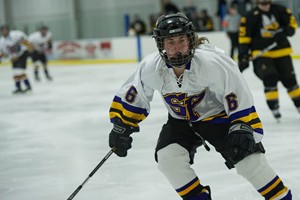 ADRIAN, MI (UWSP) - The UW-Stevens Point women's hockey overcame an early 2-0 deficit only to see the host Bulldogs score the game-winner in overtime as the
Pointers fell 3-2 to Adrian College
in the opening game of the 2013 O'Brien Cup Playoffs.
Box Score
Adrian took an early 2-0 lead, scoring two goals in the first three minutes of play, both on powerplays. UWSP cut the deficit in half at the end of the first period as
Shauna Bollinger
(Menomonie, WI/Menomonie) scored off the stick of
Allie Tanzer
(Chippewa Falls, WI/Chippewa Falls) and
Cassandra Salmen
(Stillwater, MN/Stillwater). Midway through the second period the Pointers knotted up the game at 2-2 as Salmen netted a goal. A scoreless third period forced the NCHA playoff game into overtime. Less than two minutes into the overtime period Adrians Devyn Fitzhenry netted the game winning goal.
Hillary Drake
(Mosinee, WI/Mosinee) tallied 35 saves in goal for the Pointers and Adrian's Brittany Zeches recorded 33 in the win. The two teams will face-off again tomorrow at 2 p.m. EST in game two of the series. The Pointers need a win to force a decisive mini game and advance to the semifinal.