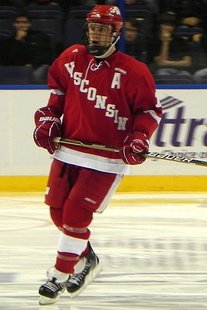 ANCHORAGE, ALASKA (WSAU) The Wisconsin men's hockey team held off a late rally by Alaska-Anchorage to win 5-3 and run their unbeaten string to seven games in a row.
Goals by John Ramage and Joseph LaBate gave the Badgers a two-goal lead after the first period. Then, early in the third period, goals by Michael Mersch and Tyler Barnes made it 4-1. Goals just 75 seconds apart cut the lead to one, 4-3, but Mark Zengerle iced it with a goal in the final minute.
Wisconsin's record is 5-7-5, including 3-5-5 in the WCHA. Landon Peterson made 26 saves to pick up the win in goal. Wisconsin looks for the sweep tonight in a game starting at 10 p.m. Central time. The Wisconsin women's hockey team started the second half of the season with a 4-0 shutout of the Minnesota Whitecaps in an exhibition game at LaBahn Arena.
A three-goal explosion in the second period put the game out of reach for the Badgers. Karley Sylvester had scored Wisconsin's first goal, then Courtney Burke, Rachel Jones and Katy Josephs all scored in the second period.
Jorie Walters stopped 18 shots in goal. The Badgers are off tonight, playing again next weekend in a two-game home series at LaBahn Arena starting Friday night.