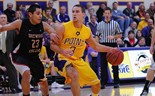 EAU CLAIRE, Wis. (UWSP) – The UW-Stevens Point men's basketball team fended off a late run by UW-Eau Claire to earn a 54-50 win in Wisconsin Intercollegiate Athletic Conference competition Saturday afternoon.
The Pointers (12-2, 5-0 WIAC) led 24-21 entering the half, but the Blugolds pulled to within 28-27 just three minutes into the second half.
That's as close as UW-Eau Claire (6-9, 0-6 WIAC) would get as UWSP went on a 16-0 run to claim a 44-27 lead midway through the second half.
DaVon Jackson accounted for seven points during the run. The run began with a Jackson three-pointer and ended with his jump shot.
The Pointers led 51-42 with 1:30 left in the second half, but the Blugolds pieced together a 6-0 run to pull to within four points.
Joe Ritchay (Wisconsin Rapids, WI/Lincoln) led all scorers with 13 points for UWSP while Jackson added 10.
Mau Lewis led the Blugolds with 12 points.
UWSP shot 37.8 percent from the floor and UW-Eau Claire shot 40.5 percent.
The Pointers return home Wednesday, Jan. 9 to host UW-Stout at 7 p.m.
The following link takes you to the UW-Stevens Point Athletics Department website for photos and statistics:
Pointers survive defensive battle, beat UW-Eau Claire 54-50