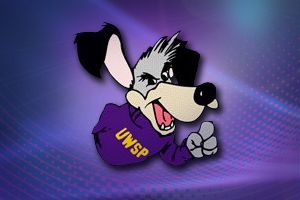 STEVENS POINT, WI *(UWSP) – Four different Pointers scored as the UW-Stevens Point women's hockey team skated to a non-conference victory over St. Thomas Wednesday night, 4-1.
The Pointers opened the scoring when seniors Michelle Lunneborg (Richfield, MN/Richfield) and Brooke Hanson (Maple Grove, MN/Maple Grove) broke free at the 16-minute mark of the first period. Hanson netted the puck off the pass from fellow captain Lunneborg, putting the Pointers up 1-0.
Just over one minute into the second period, the Thommies knotted the game at 1-1 off the stick of Lauren Mumm.
The tie lasted only five minutes as the Pointers capitalized on a St. Thomas penalty taking the 2-1 lead. Emily Lester (Eau Claire, WI/Memorial) recorded the goal off the sticks of Alli Tanzer and Josie Johnson (Waunakee, WI/Waunakee).
Four minutes later Josie Johnson (Waunakee, WI/Waunakee) gave UWSP the 3-1 lead as she scored an unassisted, shorthanded goal.
With two minutes remaining in the game the Thommies pulled their goalie to add an extra attacker. Cassandra Salmen (Stillwater, MN/Stillwater) stole the puck at mid-ice to score the open-net goal and sealing the 4-1 victory.
Janna Beilke-Skoug (Madison WI/East) tallied 18 saves in the contest while her counterpart Taylor Neisen tallied 17.
UWSP returns to action Friday Jan. 11 as it travels to St. Peter, MN to take on undefeated Gustavus Adolphus. Face-off set for 7 p.m.
The following link takes you to UW Stevens Point Athletics website for stats and photos:
Women's hockey skates past St. Thomas