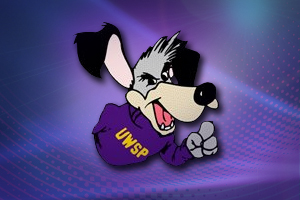 STEVENS POINT, WI (UWSP) – The UW-Stevens Point women's hockey team used a second period goal off the stick of
Nikki Kloes
(Antigo, WI/Antigo) to skate past the UW-Eau Claire Friday evening, 1-0.
Box Score
Both teams got off to a slow start combining for just nine shots on goal in the first period. The Pointers offense came alive in the second, recording 17 shots on goal. Kloes's shot, seven minutes into the second period, proved to be the game winning goal.
Emily Lester
(Eau Claire, WI/Memorial) and
Nicole Schaub
(Vadnais Heights, MN/White Bear Lake) both recorded assists on the goal. With just over a minute left in the game, Eau Claire pulled its goalie, but the extra attacker wasn't enough.
Hillary Drake
(Mosinee, WI/Mosinee) earned the win in goal for the Pointers, tallying 15 saves. Her counterpart Paige Turner tallied 16 in the loss. UW-Stevens Point (9-6-2, 7-3-2 NCHA) and UW-Eau Claire (6-9-3, 5-6-2 NCHA) will face-off again tomorrow afternoon for game two of the weekend series. Action set for 2 p.m. In Eau Claire. This link takes to you UW Stevens Point Athletics webpage for more photos and statistics:
Pointers take game one from Blugolds