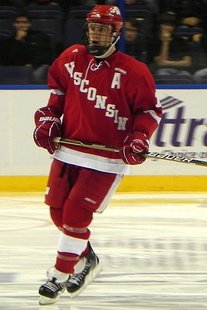 MADISON, Wis. (WSAU) - The surging Wisconsin men's hockey team has tasted defeat for the first time in almost two months, dropping a 2-1 contest to Miami-Ohio on the home ice Saturday night.
The Badgers' 11-game unbeaten streak is over. With the Redhawks leading 1-0 in the second period, Michael Mersch scored his team-leading 13th goal to tie the score. Derek Lee and Joseph LaBate assisted on Wisconsin's only score of the night. A Miami score later in the same period providing the winning margin. Joel Rumpel absorbed the loss, despite stopping 30 shots. Wisconsin outshot the visitors, 34-32.
The Badger record is 9-8-5 after the split, with another home series starting next Friday against Alaska-Anchorage.