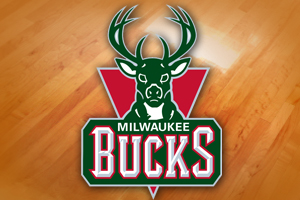 MILWAUKEE, WI (WSAU) For the ninth year in a row, the Milwaukee Bucks will be a no-show at the N-B-A All-Star Game. Guards Brandon Jennings and Monta Ellis got at least some support from national commentators to make the Eastern Conference bench for the February 17th game in Houston. But point guards Jrue Holiday of Philadelphia and Kyrie Irving of Cleveland were chosen instead by the league's coaches.
The 23-year-old Jennings has been mentioned for the last two years as a possibility of becoming Milwaukee's first All-Star since Michael Redd in 2004. Jennings thought his chances would have been improved this year, since the Bucks are above .500 and hold a playoff spot at the moment. That wasn't the case, though, as Holiday and Irving are standouts on losing teams.
Miami Heat All-Star LeBron James tweeted that Jennings would have been ideal on a 15-man All-Star roster – but only 12 players are named for each conference. Jennings and Ellis are both averaging almost 19 points a game. Stephen Curry of Golden State averages 21 – and he didn't make the Western Conference squad.
There's still a chance that Milwaukee will be represented at other All-Star Weekend events. First-year forward John Henson is being mentioned for the Rookie-Sophomore game, and Mike Dunleavy is a prime candidate for the three-point-shooting contest.
In the meantime, the Bucks are gearing up to play the Cavaliers tonight in Cleveland.